Call today for an appointment
1-800-945-0947

Chimney Lining for:
Gas and Oil Heating Systems -
Furnaces, Boilers & Water Heaters
"But my furnace chimney looks fine on the outside."
Many chimneys venting gas or oil furnaces or hot water heaters may appear to be in fine condition on the outside. But inside it could be a completely different situation. Yesterday's chimneys were not designed for venting today's more energy efficient appliances. Let's take a close look at what really counts...the inside.
Now look inside, see the problems?
A look at the inside of this same chimney shows how acid-laden residue from the furnace has attacked this flue. The original clay liner has eroded away; pieces of it are even missing. (Old chimneys might not even have a liner.) Mortar and bricks are loose and falling, and moisture has leeched through to the home's interior walls..
With continued use, more erosion will take place, possibly leading to leaks in the flue, complete flue blockage, or possibly even carbon monoxide poisoning of the home's occupants.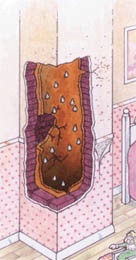 Chimney problems cause illness and loss of life.
It's happened thousands of times - illness, even death, from carbon monoxide or sulfur dioxide poisoning.
With deterioration of the flue, the deadly gases can find their way into your home through even the smallest cracks.
In severe cases, the chimney erosion will lead to partial or complete internal collapse, blocking the flue and sending these poisonous gases into the home.
But fortunately, the problems of a deteriorating gas or oil furnace flue can be corrected without completely rebuilding your chimney.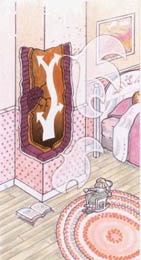 WHAT CAUSES WATER IN A GAS APPLIANCE FLUE?
The modern, high-efficiency gas heating appliance is a fabulous engineering marvel.
In the old days, low-efficiency gas heating appliances sent almost as much heat up the chimney as they put into the house. This pushed your utility bills sky-high and wasted precious natural resources.
Today's high-efficiency gas heating appliances extract more heat during the burning process and send less of it up the flue. But for all the benefits these furnaces offer, there's one important side effect that must be dealt with - excessive moisture in the flue.
You see, water is a by-product of burning. In fact, when you burn one cubic foot of gas, you create two cubic feet of vapor water. Those old, inefficient heating appliances sent so much heat up the flue that the water created in the combustion process stayed in the form of hot steam all the way up and out the chimney.
New high-efficiency heating appliances don't put as much heat into the flue. The problem is, the water vapor that's created during burning now doesn't have the draft power to push it up and out your flue. So what happens? It condenses on the walls of your chimney. And, unfortunately, no masonry chimney is designed to be constantly bathed with water, especially the acid-laden water found in your flue.
The result is deterioration. Installing a new, Chimney Saver relining will vent these vapors efficiently and with maximum safety.
SOME COMMON SYMPTOMS OF EXCESSIVE MOISTURE IN A GAS HEATING SYSTEM CHIMNEY
INSIDE:
Broken liner pieces in chimney
Flaking liner pieces in chimney
Blistering paint
Peeling wallpaper
Flaking plaster
Ceiling stains
Damp patches
Mold
OUTSIDE:
White stains on brick
Eroded mortar joints
WHAT PROBLEMS RESULT FROM SULFUR COMPOUNDS IN AN OIL APPLIANCE FLUE?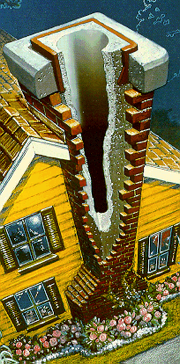 While we commonly think of a masonry chimney as a permanent structure, practically impervious to damage, that's not the case. Without a proper liner and annual maintenance, the toll can be a heavy one.
When the oil you heat with is burned, a sulfur soot is formed n the inner wall of your chimney.
The sulfur-laden soot combines with moisture in the flue, a natural by-product of today's high efficient heating appliance. This forms an acid mixture which attacks your chimney, eroding your flue tiles and mortar joints.
This leaves dangerous voids and allows the sulfuric acid mixture to attack the brickwork, your last line of defense against deadly sulfur dioxide and carbon monoxide poisoning. Additional danger exists as chimney debris or silt falls to the bottom of your chimney. This can eventually plug the chimney, allowing dangerous gases to enter your home.
Installing a new Chimney Saver relining will vent this dangerous sulfuric soot efficiently and with maximum safety.
SOME COMMON SYMPTOMS OF PROBLEMS IN AN OIL APPLIANCE CHIMNEY
INSIDE:
Silt in chimney
Heavy build up in clean-out
Soot blockage in chimney connector pipe
Soot floating in the house
Soot coming from barometric damper
Odor
Flaking Plaster
Damp patches
OUTSIDE:
White stains on brick
Eroded mortar joints
Deteriorating bricks