Call today for an appointment
1-800-945-0947
Cast in Place Chimney Lining by Chimney Savers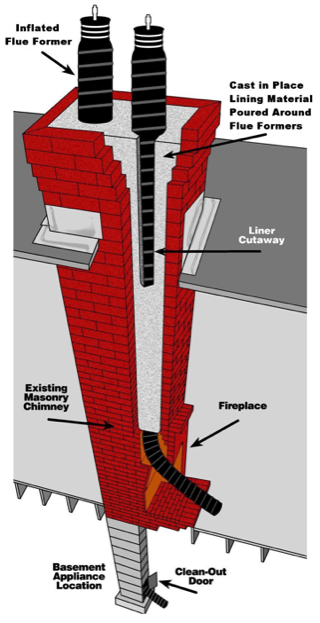 Cast in place chimney liners (a.k.a. poured in place or pumped masonry liners) are made from a volcanic rock which makes the liner fireproof. Within the rocks are also thousands of microscopic air pockets which makes it very light weight with an excellent thermally insulated quality. A cast in place liner is a highly insulated, one piece masonry, continuously pumped-in chimney lining system that is used in lining new and old chimneys of any type.
Because of that (and the high amount of labor involved) cast in place liners are not only the best lining but, are also the most expensive lining you can put into a chimney, typical finish cost is usually around four times the cost of other lining types.
Cast in place liners are used for residential, commercial or industrial applications. Cast in place lining can be used for any type of installation, for example; fireplace, furnace, boiler, incinerator, wood-stove, pellet-stove or corn-stove. Cast in place lining can also be used with any fuel type; natural gas, home heating oil, wood, coal, corn and pellet.
Cast in place lining is well known to be the best method for historic fireplace restoration and the best method for lining any un-lined fireplace, also it has been featured on TV shows such as "This Old House".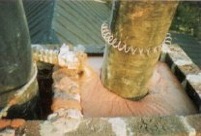 HOW A CAST LINER IS INSTALLED
First, the existing clay flue tile liners and / or the wythe walls (flue divider walls) are removed. Doing so enables us to install the proper flue size and allows the cast liner to adhere to the chimney casing.
A chimney former is temporarily installed in the casing and inflated to the proper flue size. Then specially designed spacers attach to the former and keep the chimney former away from all the interior walls of the chimney to assure proper lining thickness and to provide you with the best quality flue.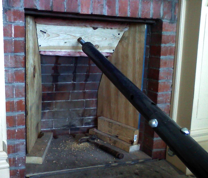 The bottom is temporarily sealed to confine the cast in place mix which is pumped into the chimney in a semi-liquid state. In addition, pumping the mix eliminates excessive walking across the roof. After a proper curing time the chimney former is deflated and removed.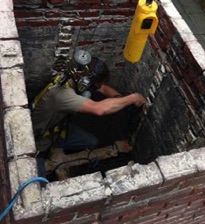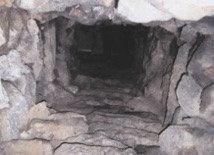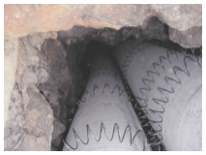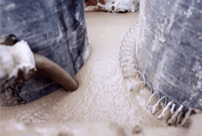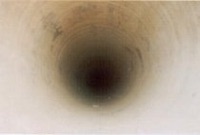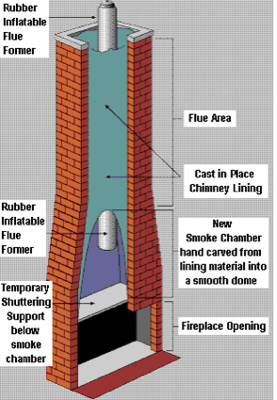 The results are a one-piece highly-insulated liner. Due to the flowing of the mix all loose bricks, voids and cracks are permanently sealed.
The structural strength of the chimney has been increased far beyond a masonry chimney. In older chimneys, the deterioration of the flue is stopped from the inside.
The liner is so highly insulated that it will dramatically reduce water and smoke condensation which develops with the use of oil, gas and wood stoves.
Cast in place lining is ideal for use with modern high-efficiency oil and gas furnaces and boilers.
Chimney Savers only uses a cast in place lining mix that is manufactured with natural materials, that once installed contain no harmful ingredients which could pose a problem to the environment, building, or the buildings occupants.
There are two main ingredients and three other ingredients / processes which make up our Cast in Place lining mix.
The first is Perlite/Silicate, a natural occurring siliceous volcanic rock. Perlite is impervious to the acids and condensation found in today's high efficiency furnaces. Perlite is used to get the best insulation value. Since perlite naturally has high insulating qualities use of this material eliminates dangerous levels of heat transfer. Heat transfer is the number one cause of structural fires from a chimney. This is especially dangerous in older homes where combustible wood framing is directly up against the outside of the chimney, sometimes the chimney is even used as a structural framing support! Current building codes do not allow these conditions because they are so dangerous. For instance if a chimney fire occurs flue temperatures are around 2100°F (at this temperature clay bricks will actually glow like hot coals in a fire) if any of the homes wood framing is up against this chimney, that wood will combust. Actually wood can combust at temperatures as low as 510°F (wood gets dryer as it ages effectively lowering its combustion point) then the brick will pass those hot flue temperatures to that wood very quickly (making matters worse is the fact that mortar joints between bricks fail as they get older.) That is one of the reasons why if your chimney is un-lined you should not use it (another common reason is carbon monoxide leaking into the home). Un-lined chimneys always and with-out exception automatically fail a safety inspection and should always be considered not usable. Cast in place chimney lining eliminates this concern because it eliminates dangerous levels of heat transfer.
The second ingredient is the bonder; this holds the product together and provides strength, as well as adhering the mix to the inner wall of the chimney during installation. This bonder is white grade ASTM-C150-86 and/or AST-C Type 111 high-early Portland cement. Use of this masonry product in our cast in place re-lining actually makes a chimney stronger than when it was originally built.
Also, there is a small amount of air entrainment injected into the mix. This allows the expansion and contraction of the cast flue liner which is due to high temperature fluctuations in chimney flue gases. Other poured liners on the market don't have this valuable characteristic. Air entrainment, creates tiny air bubbles which allow the mix to expand and contract within itself, which is of the utmost concern in the longevity of a cast liner.
A plasticizer is added to improve the mixing and flow-ability of our lining material. This flow-ability is important for sealing voids, cracks, missing bricks and mortar. Having this type of flow-ability of the liner material is crucial in structurally strengthening the chimney and sealing the poisonous flue gases such as sulfur dioxide and carbon monoxide in a chimney where they belongs.
Finally, fireproof mesh fibers are added to increase strength of the cast masonry.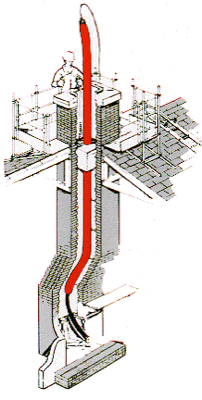 Typical Physical Properties of
Chimney Savers Cast in place chimney liner
Chimney Savers cast in place mix #2 and #3 have a wet density range when placed, 50.75 pounds per cubic feet. The dry density range after 28 days per cubic feet is 33.35, a compressive strength after 28 days for mix #2 is 653 PSI and mix #3 is 755 PSI.
The insulation factor of either mix is 1.29 R-Factor per inch of mix and a K-Factor of 0.77. The insulation quality of the mix governs the wall thickness of a cast masonry liner.
Our R and K Factors are high for a masonry product and allow us to install less than a one inch coating or wall thickness of liner. Water or moisture penetration is very low.
There is less than 0.75% of water or moisture absorption by weight in relationship to product weight. Sulfuric Acids and Chloride Acid will not affect the products longevity, because perlite is not affected by these acids.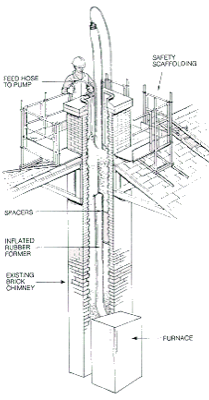 Chimney Savers uses several mixes, from historical and residential to a high-temperature commercial grade. Chimney Savers uses the first pumped chimney liner to be tested and approved by the proposed U.L. standard 1777. It has also passed strength, acid absorbency, freeze/thaw and high temperature tests exceeding 2100°F.
Chimney Savers uses the only pumped chimney liner tested and approved by Underwriters Laboratories for U.L. Listing. This assures the customer that each bag of liner mix matches the tested product. Our Cast in Place liner mix is zero clearance to combustibles with only one inch of lining mix.
Some other cast systems have ¾" but our system has just the right amount of an air entrainment agent in the mix, which allows for more expansion within the actual lining material itself, this is crucial to the longevity of the cast liner!
15 Reasons Why Cast in Place Lining is the best type of Chimney Liner
1. Zero-clearance to combustibles with only one inch of lining material.
2. UL Listed by Underwriters Laboratories.
3. Withstands flue fires over 2100 degrees
4. Seals any voids or missing bricks and cracks in brickwork also any loose masonry will be unable to fall as it will become bonded together as one continuous piece from bottom to top.
5. Fills damaged and recessed mortar joints.
6. Seals interior chimney walls, preventing smoke and poisonous flue gases such as carbon monoxide and sulfur dioxide from escaping into the home.
7. Any deterioration in a chimney will stop completely and be filled in structurally.
8. Highly insulates the chimney which increases stack temperatures thereby reducing condensation from high efficiency furnaces or creosote formation in wood burning.
9. It will provide a constant flue gas temperature in the chimney in return providing a constant natural draft of the chimney system which will allow appliances to operate at their highest possible efficiency.
10. It will eliminate excess heat transfer through the chimneys masonry surrounding work which is the most common cause of structural fires from a chimney.
11. Adds structural strength beyond original construction.
12. Impervious to the attack of acids produced by gas and oil furnaces.
13. Allows chimneys with multiple offsets to be lined.
14. The smoke chamber is lined, protecting the heart of the chimney.
15. Cast in place lining results in a one-piece masonry liner and smoke chamber with no seams to leak or joints to weaken later.
Cast in Place Liner Information
•Chimney Savers cast liners are certified for all fuels by Underwriter's Laboratories and Warnock Hershey.
•Chimney Savers cast liners have the highest protection against heat transfer with the thinnest coating. This allows maximum draft with minimal material costs and the greatest number of options in appliance or fireplace usage.
•Chimney Savers cast liners are produced in multiple formulas for commercial, residential and historical applications.
•Chimney Savers is a Massachusetts based company. We use equipment and materials that are specifically designed and exclusive to our chimney restorations. No other company in our area offers our line of services or has our type of equipment. We are recognized locally as the "go to" company for chimney restoration, especially for historic and antique homes and estates.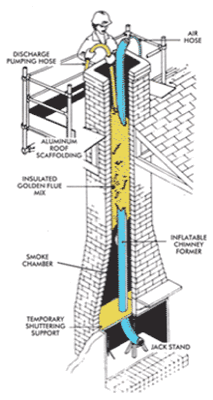 Above: Removing wythe walls
Below: Fireplace forming shutter
Chimney flue before casting
Formers and spacers in chimney
Pumping casting cement into chimney
Above: Finished flue after former removal
Left:
Diagram of cast in place chimney lining process